Graduate and Professional Student Well-Being Associates (GAPSWell)

Mission
To actively educate UC San Diego students on important issues related to their health and well-being by presenting research based and relevant information that empowers them to comprehensively reflect on their choices and engage in healthy behaviors, attitudes, and perceptions. Our goal is to provide support to students during their journey at UC San Diego, and teach them healthy lifestyle habits that will contribute to student success, life satisfaction and a sense of well-being while at the University and in life beyond college.
Purpose
The Peer Health Educator Program was established to foster an environment of learning and trust in order to address individual and community responses related to physical, mental, and social well-being issues that students at UC San Diego may experience. By integrating empirically-based, comprehensive findings about holistic health and well-being with open and engaging dialogue, we facilitate the development of strong and cohesive partnerships on campus and in the community. We are committed to a balanced approach that applies best practices in the promotion of a healthy campus and community environment.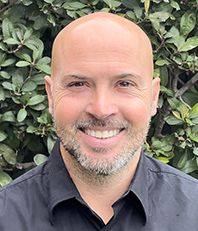 Haim Shemer, PsyD
GAPSWell Program Coordinator
Psychologist / Assistant Director to Outreach, Graduate and Professional Students
California School of Professional Psychology, San Diego
Clinical Interests: Evidence-based treatments for anxiety and sleep problems, adjustment and life transitions, Positive Psychology, stress management, meaning in life and well being, meditation and mindfulness, Cognitive Behavioral Therapy, and Acceptance and Commitment Therapy.
Languages Spoken: English and Hebrew
Affiliations: American Psychological Association 
---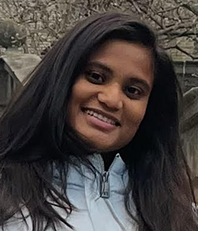 Anshu Andani (she/her/hers)
Masters of Engineering, Medical Device Engineering
1st Year, Bioengineering UC San Diego
B.E Biomedical Engineering, BMS College of Engineering, Bangalore, India

Anshu is an international student who grew up in Bangalore, India where she did her Bachelors Degree in Biomedical Engineering. In Fall 2022, she moved to San Diego to pursue her Masters Degree in Bioengineering with a specialization in Medical Devices.
Through her degree, she hopes to work in areas pertaining to clinical translation, regulations, and design to ensure that these breakthrough medical devices reach those in need of them at the earliest. Through GAPSWell, she hopes to make an impact in promoting the well being of many students like her who are traversing major life changes like balancing academics, work and living away from home. She especially cares about empathy and hopes to spread kindness in little ways in her everyday life. She is a Blackbelt in Taekwondo, a former basketball player, and she loves to go on hikes or just spend evenings on the beach with a plate of tacos!
---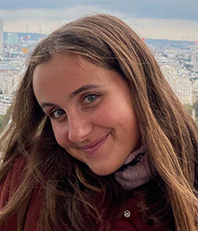 Lucienne Arrigoni (she/her/hers)
Masters of International Affairs, International Economics, 1st Year
UC San Diego, BA in International Relations
Lucienne split time growing up in the Bay Area and Milan, Italy, where she attributes her initial interest in international affairs. After completing three great years as a student in the Department of Political Science at UC San Diego, Lucienne was accepted to the Global Policy School's 5 year joint degree program. Graduating in June 2024, Lucienne hopes to work as a trade and sanctions policy consultant, and looks forward to traveling abroad, exploring new cultures, and (hopefully) honing her Spanish language skills. During the Fall 2022 term, she joined GAPSWell to build community with other fellow graduate students on campus, and strongly believes in the power that real, honest conversations can have on people's mental wellbeing. In her downtime, you might find her running at Scripps beach, cooking for friends, or trying one of San Diego's many coffee shops.
---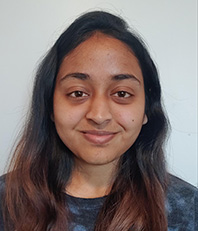 Neha Balaji (she/her/hers)
MS Bioengineering, 1st year
BMS College of Engineering, Bangalore, BE in Biotechnology
Neha grew up in Bangalore, India and moved to San Diego for graduate school in Fall 2021. She is a first year master's student in the Bioengineering Department at UC San Diego. As a Graduate and Professional Student Well-Being (GAPSWell) Associate, she looks forward to sharing the power of compassion as a stepping stone to mental health. An International student who has experienced difficulties in maintaining a balanced lifestyle, she especially cares about eating disorders and the difficulty students may experience in building healthy habits in a new place. Neha wants to help build a community that is comfortable asking for help when away from home and family. As a vocal supporter of environmental conservation, she hopes to raise awareness among her peers regarding the impact of the natural environment on personal well-being. She is a former competitive tennis player and enjoys outdoor activities such as morning runs on the beach and weekend hikes exploring San Diego's natural beauty. She likes to bake creative confectionaires, write short essays, and deeply dissect a wide range of movies and TV shows as an amateur cinephile.
---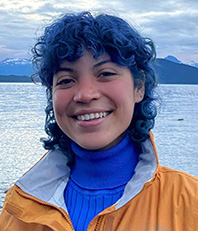 Ro Sandoval (they/she)
Neurosciences Graduate Program, 2nd year
Washington University in St. Louis, BS in Neuroscience, Gender and Sexuality Studies

Ro was born and raised in Chiquimula, Guatemala but calls Memphis, TN their second home. Having grown up in environments where community is vital, Ro is passionate about sharing the philosophy of love and care as radical practices. With a background in critical gender studies and as a queer student, Ro is dedicated to engaging in topics of mental health through an intersectional lens. In their personal journey, Ro has worked through grief, loneliness, and anxiety and wants to create spaces to honor and explore those topics with others. Outside of graduate school, Ro finds their energy through reading copiously, spending time with nature, creating ceramic sculptures, and practicing yoga.
---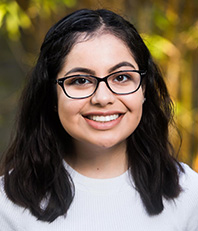 Gisselle Santiago
(She/her/hers)
Masters of Science, Biology
Biological Sciences Graduate Program, 2nd Year
UC San Diego, B.S. in Human Biology and Global Health
Gisselle is a first-generation Mexican-American from Los Angeles, California. She currently does research in a reproductive endocrinology lab on School of Medicine campus. She hopes to further her research journey by applying to PhD programs! With this, she hopes to become a professor and run her own research lab one day. As a GAPSwell associate, she hopes to make a difference in graduate students' well-being and sense of belonging at the university. As a first generation Latina, imposter syndrome is very common and wants to help other students from underrepresented backgrounds to aid their sense of belonging in the program and higher education. On her free time, Gisselle loves binge watching Netflix, reading book, and trying out new restaurants with her friends!
---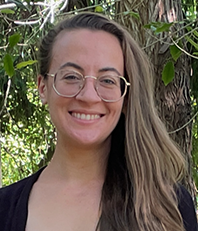 Seraphina Solders (she/her/hers)
Neurosciences Graduate Program, 5th year
San Diego State University, BA in Biology & Psychology
Seraphina is a PhD candidate in the Neurosciences Graduate Program (NGP). As a first-generation college student from a low-income family, she is passionate about helping disadvantaged and historically excluded students navigate the academic world. She chairs the NGP Peer Advising Committee's Success through Failure panel, facilitating discussions between faculty and students on persevering despite setbacks and hardships in science careers. Shaped by her own experiences healing her childhood trauma, her values include empathetic listening, vulnerability, and fierce self-compassion. To find peace, she enjoys watching the fennec foxes at the San Diego Zoo, strolling through botanical gardens, snuggling her cat, Callie, and reading fantasy and science fiction.
---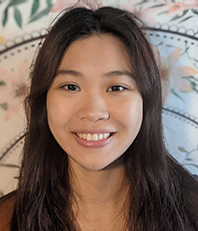 Summer Zhu (she/her/hers)
Herbert Wertheim School of Public Health & Human Longevity Science, 1st year
UC Davis, BA in Psychology and Communication
Summer is an international student currently pursuing a Master of Public Health degree. She recently graduated from UC Davis with dual degrees in Psychology and Communication. She first came to the United States from China as a teenager. Adapting to a brand new culture helped her gain insight into the difficulties and stresses associated with living abroad. Such experience sparked her interest in exploring mental health issues among international students and children. Since then, she has volunteered at a non-profit organization focusing on mental health research in underserved communities. As a Graduate and Professional Student Well-Being (GAPSWell) Associate, she looks forward to making a positive impact and sharing her personal experiences with others. In her free time, she loves to arrange fairy gardens and go hiking with her dog, Hailey. Their favorite thing to do is going on evening hikes at Mission Trails.
Alejandra Chaidez (she/her/hers)
School of Global Policy & Strategy
UC Berkeley, BA in Political Science and Social Welfare
Emily Ho (she/her/hers)
Medical Scientist Training Program
Neurosciences Graduate Program
University of Chicago, BA in Biological Sciences and Psychology
Qihao (Thomas) Liu (he/him/his)
Biological Sciences MS
UC San Diego, BS in Neuroscience and Physiology
Kennedy Middleton (she/her/hers)
Political Science Graduate Program
Spelman College, BA in Political Science
UC San Diego, MA in Political Science
Nina Imani Scott (she/her/hers)
Marine Biology Doctoral Program
University of the Virgin Islands, BS in Marine Biology
Kween Agba (she/her/hers)
Neurosciences Graduate Program
Northeastern University, BS in Behavioral Neuroscience
Jasmin Ashby (They/Them/Theirs or She/Her/Hers)
Herbert Wertheim School of Public Health & Human Longevity Science
UC San Diego, BA in Sociology of Science and Medicine
José Delgado (he/him/his)
Bioengineering Medical Specialization MS
UC Santa Barbara, BS in Biological sciences
Dania Maldonado (she/her/hers)
Herbert Wertheim School of Public Health & Human Longevity Science
UC Irvine School of Medicine
UC Berkeley, BA Social Welfare, minor in Education
Anja Payne (she/her/hers)
Neurosciences Graduate Program
University of Utah, BS in Biomedical Engineering
Alexis Plazola (she/her/hers)
Global Health Graduate Program
UC San Diego, BS Global Health
Applications are currently closed, please check back later.